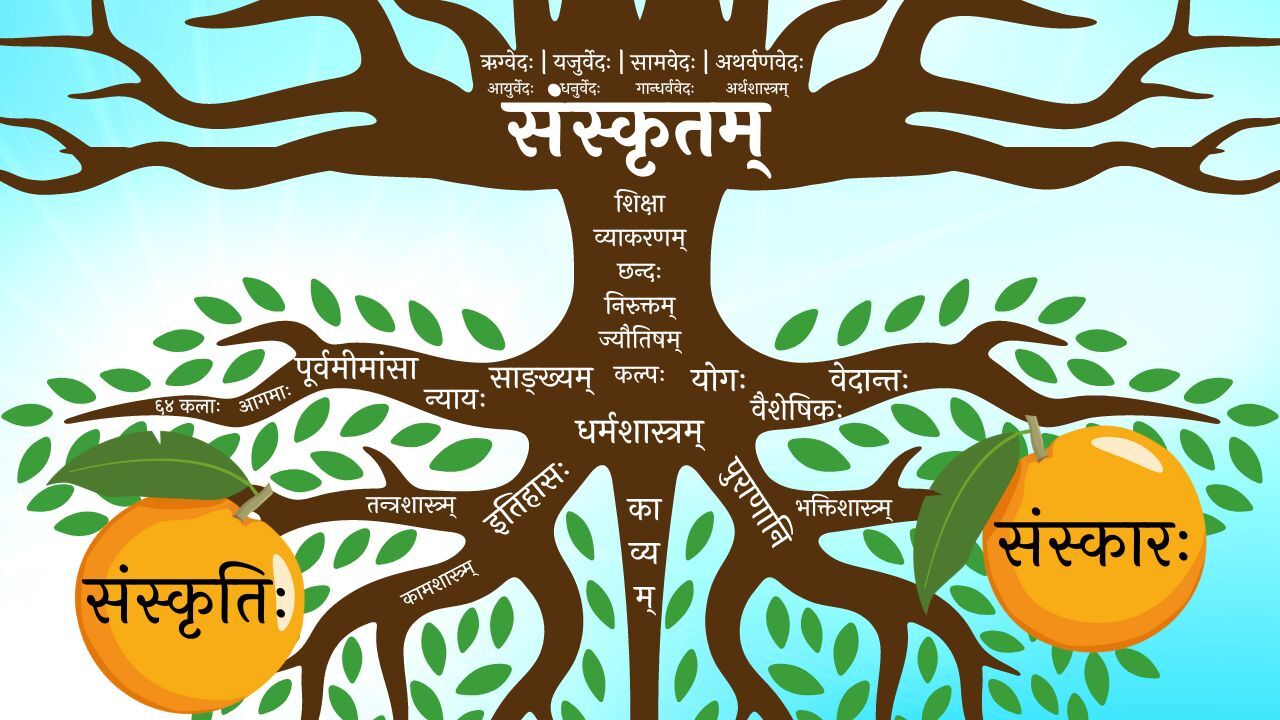 DONATE & SUPPORT US
10+ YEARS IN THE SAMSKRTA-SAMSKRTI-SAMSKARA (SSS) SEVA

With your support and contribution:
Vyoma Linguistic Labs, has been providing innovative e-learning tools and courses to make Sanskrit learning easy and accessible to everyone.
More than 50,000 learners have benefitted and the numbers are growing.
VSVP (Vyoma Sanatana Vidya Pathasala) – a unique elearning programme for children in the age group of 6 to 13 years.

Revival of Various Samskrita Sabhas. Installation of Digital Sanskrit labs at Veda pathasalas, schools, colleges and other educational institutions.

Creating more Value added courses for the benefit of students.

Creating customised Learning path and providing counselling for Sanskrit learners.

VYOMA Publications- A wing which focuses on producing books and research to support and enhance e-learning.

Helping children at rural, tribal and government schools to learn Sanskrit.

Customized self-learning products for various occasions and personas.

and many more…
VAAC (Vyoma Academic Advisory Council) for empanelling scholars and standardising the curriculum.

VSB (Vyoma Samskrta Bhavanam)- A unique Sanskrit experience centre containing Sanskrit classrooms, e-learning teaching rooms, Library etc. To teach rare Sanskrit Granthas or texts.

To Support the livelihood of Sanskrit teachers or experts by providing them with teaching opportunities.

To introduce PSC(Personal Sanskrit Companion) for various personas. Sanskrit assistance to University students to excel in competitive exams like UGC NET (Sanskrit) and IAS(Sanskrit).

Dissemination of NIOS, Sanskrit and Bharatiya gnana Parampara exams at 10th and 12th-grade levels.

A dedicative Sanskrit web radio- An effective and engaging medium to promote and enable easy learning of Sanskrit with songs, news, conversation etc. Research, content creation and dissemination of IKS(Indian Knowledge Systems)in specific areas like management, finance and legal systems.

Audiobooks for Sanskrit Granthas to help people learn with the correct pronunciation.

and many more…
VYOMA LABS IS ON THE DIVINE PATH OF BECOMING THE VIRTUAL NALANDA* UNIVERSITY- 'WORLD'S LARGEST VIRTUAL LEARNING CENTRE AND REPOSITORY OF SANSKRIT AND INDIAN KNOWLEDGE SYSTEMS'.
*Ancient University in India (5th C.E) which was the greatest center for learning arts and academics
|| शतहस्त समाहार सहस्रहस्त सं किर ||
Earn with Hundred Hands and Donate with Thousand Hands
(Atharvana Veda 3.24.5)
Donate for Vyoma's E-learning operations
*Our dedicated team of experts has consistently been developing and providing special Sanskrit e-learning courses, top-notch multimedia products, and educational and edifying books. These products are persona specific and cater to people of all age groups.
*VSVP-Vyoma feels proud in launching a unique e-learning programme called VSVP (Vyoma Sanatana Vidya Pathasala) for children in the age group of 6 to 13 in the year 2022. VSVP aims to expose the children to Samskrta-Samskrti-Samskara (SSS) through live online classes for one hour on all weekdays. The course spans for Five Years where children will pass through 3 stages of learning namely,
· Shravanananda (Listen)
· Vicharananda (Think)
· Acharananda (Experience).
*Revival of Various Sanskrit Sabhas- In the recent past, the enrolment for Sanskrit exams conducted by popular Sanskrit sabhas like Samskrita Bharati, Sri Sura Saraswathi Sabha, The Bharatiya Vidya Bhavan, Samskrit Education society, Bhasha Pracharini Sabha started declining. Vyoma is now contributing to the revival of such sabhas by providing teaching assistance for their exams through Vyoma's e-learning portal.
Donate for Vyoma Samskrta Bhavanam
Vyoma is planning to construct a Unique Sanskrit Experience centre called 'Vyoma Samskrta Bhavanam' containing Sanskrit classrooms, e-learning teaching rooms, Library, a Soundproof audio-video recording facility, Sanskrit Auditorium, meeting rooms and a research centre.
Donate to Vyoma Corpus Fund
Interest from this corpus will help in the long term sustainability of Vyoma's initiatives.
Every Rupee of yours is spent in promoting SSS Consciousness
Support Sanskrit | Support Mankind | Enhance your Spiritual Miles
Vyoma is considered as the largest repository of 'structured online Sanskrit e-learning content.
Being a Non-Profit Organization, your contribution is very valuable to sustain our initiatives (Saṃskṛta-Saṃskṛti-Saṃskāra).
More than 24,000 committed learners are benefited from your support.
80G Tax exemption is available for Indian citizens.
On completion of the donation, you will receive the tax exemption receipt in your email id.
As per the Indian Government and Income Tax Act 1961, donors are required to furnish their PAN Number & Address, if they need an exemption.
For US Donors in USD – To get 501(c)(3) tax benefits: Kindly visit https://vyomausa.org for details
Note: Details of Donors (PAN, Address, etc) are kept confidential.
Indian Citizens
Name: Vyoma Linguistic Labs Foundation
A/c No: 233109000187409
IFSC code: CIUB0000233
Bank: City Union Bank
Branch: Vijayanagar Bangalore
Purpose: Donation
Foreign Donations (FCRA donations)
Note:
1) Foreign nations and NRI's are requested to use the below account only. 2) Online remittance should be followed by an email to 
[email protected]

.
Kindly use the below bank account details: Vyoma Linguistic Labs Foundation Account number: 40056443676 IFSC code: SBIN0000691 Branch Code: 00691 SWIFT: SBININBB104 Bank: State Bank of India Branch: New Delhi , Sansad Marg Purpose: Donation
'What our donors have to say…'
Vyoma Linguistic Labs Foundation thanks all its donors for their contribution towards the promotion of Samskrita, Samskriti and Samskaara.
Please find the list of our Esteemed Donors below:
Donors who Have donated for products
| Name | Place | Product Sponsored |
| --- | --- | --- |
| Sandhya N S | Bangalore | Sahasranama |
| Rajesh A | Bangalore | |
| Rama Sivaraman | Chennai | Grammer Products |
| Krishnamurthy B | Bangalore | Saptāhastotra Saṅgrahaḥ & IOS App |
| Sumanth Suresh | USA | Replenishment of old products |
| Sumanth Suresh | USA | Computer and Tablet donated |
| Nandakumar Menon | Kerala | Dhāturūpaparicayaḥ |
| Malathi Moorthalatha | Bangalore | Veda Patashala |
| Shiva Jaganathan | Bangalore | Language Lab |
| Siva Subramanian Moka | Singapore | |
| Mishra Family | USA | Sabdarupasangrahah Book |
| Balaji Srinivasan | Bangalore | Sanskrit Scholars & Prizes for Meditories Sanskrit Students |
| Harsha Vardhan Khemani | Hyderabad | Power of Sanskrit & Research |
| Arundhati Kumar Kulkarni | USA | For Parayana Related Courses |
| Kailash Swaminathan | Bangalore | E Learning and online courses |
| Rama Shankar | USA | Prizes for Students |
Donors who Have donated Rs. 5000 to Rs. 25000 and above
| Name | Place |
| --- | --- |
| Ramakrishna R | Bengaluru |
| Ramaiah Naryanan | NRI |
| Jayashree Deshpande | Indian |
| Shantala Gopalakrishna | Bangalore |
| Manish Gavakar | Indian |
| Venkat | Indian |
| Mahadevaprasad | Bangalore |
| Chandrasekhar | Indian |
| Srikant Subramanian | Bangalore |
| Anil Surpur | NRI |
| Raghunandan Bhargav | USA/NRI |
| Urmila rani | Indian |
| Muthulakshmi Rao | Indian |
| Sowmya Madhusudhan | NRI |
| Nirmala Rajasekar | Chennai |
| Priya Santhanakrishnan | Tiruneveli |
| Rupali Rajappa G | Indian |
| Lakshmikanth M V | Indian |
| Kumar Vishwanathan | Bangalore |
| Sowmya Nagaraj | Coimbatore |
| Vijayaraghavan K S | Indian |
| Prasad | Indian |
| R Krishnamurthy(Saraswathi) | Indian |
| Harini Rajan | Bangalore |
| Chandrika N | Bangalore |
| Meena Narayanan | |
| Vijayasree Orugunti | Hyderabad |
| Balachandran Radhakrishnan | Coimbatore |
| Seetha Ganesan | Indian |
| Usha Sukumar | Indian |
| Raghupathi Acharya | Karkala |
| Aparna Jiddu | Indian |
| Balakrishnan Ananthasubramanya | Indian |
| Vijaya Bhat | NRI |
| Vasanthi Ramesh | Indian |
| Maneesha Foundation | Indian |
| Vaishnav Simha | Hiremaglur |
| SreeVidhya Kashi | |
| Narahari B Achar | Indian |
| Krishnamurthy Janga | Bangalore |
| Madan Lal Chitkara | Indian |
| Paduka Das | Indian |
| Vinay Kempaiah | Bangalore |
| Shylaja | Bangalore |
| Nagraj Subramanya | Bangalore |
| Chandrakanth Alladdin | Bangalore |
| Jayashree v Prasad | Bangalore |
| Haricharan | Bangalore |
| Sudhir Patavardhan | Bangalore |
| Srinivas Sarang | Bangalore |
| Shrinivas Puranik | Bangalore |
| Praveen Tirlapur | Bangalore |
| N Venkatasubramanya | Bangalore |
| Vikas Kalyanashetty | Bangalore |
| Keshava M P | Indian |
| Shankar Rao | Indian |
| Ashwin Yajman Belludi | Indian |
| Shanthi M P | Bangalore |
| Rajamani Anand | Bangalore |
| Sumantha B A | Bangalore |
| Hari Hara Ganesha | Indian |
| Mohanan C V | Bangalore |
| Nandakumar | Chennai |
| Ashita chirag shah | Indian |
| Shishir C N | Bangalore |
| Prabhunandan and Sudha Prabhunandan | Bangalore |
| Vardan C S | Chennai |
| Raghunanadna R GGSS | Bangalore |
| Srinivas Parthasarathy | Indian |
| Kishore Chandra | Indian |
| Nagarathna Bangalore | Bangalore |
| Paramanand L Bhat | Indian |
| Harmendraji | Punjab |
| Himanshu Pota | NRI |
| Ravichandran | US |
| Jayalakshmi P | Bangalore |
| Pannaga | UK (NRI) |
| Rajesh S | Indian |
| Shobha Bhaktan | Bangalore |
| Nidhi Bhaktan | Bangalore |
| Bhanumathi A | Indian |
| Hari Narayan | Bangalore |
| Arunkumar | Indian |
| Vijay Tanikwala | Indian |
| Janaki Rajaram | Chennai |
| Ramanujachar(Trust) | Bangalore |
| Ramanujam | Indian |
| N C Jain | Kanpur |
| Raj Kalyan Durg | |
| Srinivas Varaputri | Bangalore |
| Mohana Vijayalakshmi | Indian |
| R Murali | Chennai |
| Sivakumar S | Chennai |
| Mekala Mahesh | Indian |
| R Susila | Coimbatore |
| Indira Krishnamurthy | Indian |
| Suchitra Venkataraman | Indian |
| Rajendra Reddy | Bangalore |
| Ganapathi Swami | Indian |
| N Bhanumathi | Bangalore |
| Jayraman | Bangalore |
| Naga Radha krishna Damaraju | NRI |
| Prema Rangan | Indian |
| Mala Chandrasekhar | Bangalore |
| Sharavari K M | Pennesilvania |
| Sarada R | Indian |
| H S Narayanan | Bangalore |
| Chandrasekhar Raman | Indian |
| Jay Raman | Indian |
| Arthi Parthasarthy | NRI |
| M Ramanujam | Indian |
| Umesh Chandrakanth | Indian |
| K Veeraraghavan | Indian |
| A Nalini | Indian |
| Sayeeram Subramanian | Indian |
| RamaKrishnan P R | Indian |
| Mohana | |
| Jayanth | Indain |
| Mohana R | Indain |
| Ruckmani Gopal | Indian |
| Prabha Kumar | Chennai |
| Rajesh Thyagarajan | Indian |
| Uma Gururajan | Indian |
| Bharath L | Indian |
| Geetha Laxmi | Indian |
| Sharada Ganesh | Indian |
| Vijayakumar Jayaraman | Indian |
| Geetha Narayanan | Indian |
| Vinay Ghatti | Indian |
| U.Subrahmanyeswara | Indian |
| Shakthi Priya | Indian |
| Geetha S | Indian |
| Rama Ramachandran | Indian |
| Girija Srinivasan | Bangalore |
| Balendu Mouli Burla | Indian |
| Venkataraghavan Mallikarjunan | Indian |
| Revathi Sankaran | Indian |
| SriRam Karunagaram | Indian |
| Balasundari K | Indian |
| V.K Bhanu Prakas | Indian |
| Suseela Subraman | Indian |
| Haresh Bhupendra | Indian |
| S.Geetha | Indian |
| Archana Tiku | Indian |
| Bharat B Rao | Indian |
| Karthik Rajeshwaran | Indian |
| Subha K | Indian |
| Sandeep S Trasi | Indian |
| Ravi Hariharan | Indian |
| Ashok Gudsoorkar | Indian |
| Padmanabha | Indian |
| Ambassador tours (bharath) | Bangalore |
| A J Purushottam | Indian |
| A L Guruprakash | Indian |
| Anuradha G | Chennai |
| Aoshuang Jiang | China |
| Balakrishnan R | Chennai |
| Bravisa TempleTree | Bangalore |
| Chandramouli Mahadevan | Indian |
| Chandrashekaraiah (madhurvce) | Bangalore |
| Chembakala S | Chennai |
| D V N Sarma | Hyderabad |
| Dharmendra Sarkar | US |
| Dinesh Rajashekar | |
| Giridhar Santhanam | Australia |
| Girija Murali | Indian |
| Google Asia Specific | |
| H S Ramakrishnarao | Indian |
| Harikrishnan Gurumurthy | Bangalore |
| J Balakrishnan | Chennai |
| J G Chandrashekhar | Bangalore |
| Jayanthi Chari | Indian |
| Jayaram Haravu L (Vikram simha Haravu) | Mysore |
| Janardhan | Indian |
| K Shankarnarayanan | Chennai |
| Kairavi & Tampala | Bangalore |
| Kalayana Raman Ravichandran | Indian |
| Kalpana B | Bangalore |
| Karthick Nagendra | Bangalore |
| Kishore Kumar Holla | Indian |
| M Meenaxi | Bangalore |
| Manjunath V | Indian |
| Meenakshi Harish | Bangalore |
| Muthulakshmi P | Bangalore |
| N Venkatesan | Chennai |
| Namitha Bhaktan | Bangalore |
| N.Nageshkumar | Bangalore |
| Nagaraj | Bangalore |
| Nagesh R | Bangalore |
| Nalini Shreeshylan | Indian |
| Nandini A P | Chennai |
| Narayan Mahalli | Chennai |
| Narayan Santhanam | Bangalore |
| Nateshkumar | NRI |
| Noor Ahlia | NRI |
| P Mohan | Indian |
| Padma Swaminathan | Indian |
| Padmanabhan V | Bangalore |
| Parvathanathan P S | Indian |
| Paul JJ Alix | USA |
| Prabhakar Rao | NRI |
| R Meenkashi | Indian |
| R Narayanan | Indian |
| R Raghottaman | Hosur |
| Raghuvarma Basavaraju | Bangalore |
| Ramakrishnan Venkateswaran | Indian |
| Ramesh Vijayaraghavan | Cincinnati |
| Ramkumar | Bangalore |
| Ravichandra Tallapalli ( Shilpa NS) | Australia |
| S. Rajalaksmi | Bangalore |
| S Bhaskar bhat | Chennai |
| S Bhavani | Chennai |
| S Muralidharan | Bangalore |
| Sarang Dabadghao | Thane |
| Shailaja KrishnaMurthy | NRI |
| Sharada prakash | Chennai |
| Shridharan M K | Bangalore |
| Shubhanka Lahiri | Bangalore |
| Shyam Subramanian | Bangalore |
| Simonetta | Italy |
| Sivaraman | Indian |
| Sri Chaturveda Vidya Gurukulam | Indian |
| Srikanth S | Indian |
| Srilakshmy Shastry | Indian |
| Sriram Karunagaran | Indian |
| Subramaniam Venkiteswaran | Indian |
| Subramanyan Jiddu | Bengalore |
| Sudarsan Chaitanya | Telangan |
| Sudha Raghuraman | Chennai |
| Sudhakar balasaheb | Indian |
| Sumita Vidyashankar | Chennai |
| Sumitra Potaraju | NRI |
| Surabhi Krishnamurty | Bangalore |
| Swaminathan Gane | |
| Swaminathan PT | Indian |
| T K Anand Kumar | Bangalore |
| T N Swaminathan | Bangalore |
| T Padmanabhan | Indian |
| Udaya Kumar D V N | Chennai |
| V Parthasarathy | Chennai |
| V Rajaram | Indian |
| V Sreenivas | Indian |
| V Sreenivasa | NRI |
| Vandana Bellur | Indian |
| Venakata Narasimha | Indian |
| Venkataramanakrishnan | Haryana |
| VenkataSubramanian | Indian |
| Vidya J H | Indian |
| Vidya Samyoghah LLC | New York |
| Viji Ramanarayanam | NRI |
| Vikas | Bangalore |
| Viswanathan | Bangalore |
| Vyas Ramakrishnan | |
| Rajeshree Narayan | Indian |
| Velyayutham | Indian |
| Lakshmi Raghvan | Indian |
| Saurabh Gupta | Indian |
| Savitha Baliga | Indian |
| Arundhati Kumar | USA |
| Srinath N S | Indian |
| Venkateshwaran Gopal | Indian |
| Geetha Gopalkrishnan | Indian |
| Harini Swaminathan | Indian |
| Ganapathy Subramanian | Indian |
| Kavitha C K | Indian |
| Sheela Ravishankar | NRI |
| Muralidharan Govindarajan | Indian |
| Jeena Mohandas | Indian |
| Ramesh Bhat | Indian |
| Vivek M B | Indian |
| Mahesh Sarma | Indian |
| Sridar Subramanian | Indian |
| Ramaiah Narayanan | Indian |
| Anandhy Venkatapathy | Singapore |
| Chennakeshava | Bangalore |
| Sathya Athreyam | Indian |
| V N Meenakshi | Bangalore |
| Ashok Gudsoorkar | Indian |
| Kendriya Vihar Apartment Association | Indian |
| R Kumaramangalam | Indian |
| S S P Sinha | Indian |
| S. Rajalaksmi | Indian |
| Sreeram Venkatas | Indian |
| Srinivasan | Indian |
| Srinivasaratnam | Indian |
| Usha Ethiraj | Indian |
| Venkata Narasimha | Indian |
| Saraswathi Rao | Indian |
| Harini M Rajan | Indian |
| R Krishnan | Indian |
| Dr. D Jayadev | Indian |
| Usharani MR | Indian |
| Uma Narayan | Indian |
| Srividhya | Indian |
| Priya Santhanagopalakrishnan | Indian |
| Gayathri Jayaraman | Indian |
| Lakshmi Muralidharan | Indian |
| Shravan Gunda | Indian |
| Sweth K R | Indian |
| Shivanis Meenakshi | Indian |
| Babu Krishnamurthy Sambasivam | Indian |
| Jayasri A | Indian |
| Shubhada L | Indian |
| Sumithra Veeraraghavan | Indian |
| Nagaraj | Indian |
| Balasubramani Bakthavatchalu | Indian |
| Saraswathi S | Indian |
| Usharani MR | Indian |
| Srilakshmi Shastry | Indian |
| Girija Murali | Indian |
| Suseela Subramanian | Indian |
| Balasubramani J | Indian |
| Chinmaya Mission | Indian |
| Ashwin Jeksani | NRI |
| Parvathi Subramanian | Indian |
| Seemanthini Gowri | Indian |
| Vijayalakshmi Bhamidi | Indian |
| Radhabai | Indian |
| Sridhar seshagiri | Indian |
| Jana Iyer | Indian |
| Vaidyanathan N M | Indian |
| Aravinda Billavara | Indian |
| Khirthika | Indian |
| Rao Shripathy | Indian |
| Rajasekaran | Indian |
| Sowmya Krishnapur | Indian |
| Prabha Kumar | Indian |
| Subramaniam Venkatramanan | Indian |
| Shubhashree Srinivasan | Indian |
| Sathish Gunjur Lakshminarayan | NRI |
| Subramanian Raman | Indian |
| Venkatesh Pallaseni | Indian |
| Sai Ganesh Krishnan | NRI |
| Bindumalini Krishnan | Indian |
| Nandyala Siva Kishan | Indian |
| Love Sharma | NRI |
| Sridhar | Indian |
| Saroj Sridhar | Indian |
| Deepak Anandram | Indian |
| Anuradha Hebbar | Indian |
| C Gopinath | Indian |
| Usha Venkatesh Pallaseni | Indian |
| P Gowthaman | Indian |
| Lakshmi Sundararajan | Indian |
| Mythili Sridhar | Indian |
| Mahadeva Channegowda | NRI |
| Radhika Krishnan | Indian |
| Balasubramanian | Indian |
| Varadharajan | Indian |
| Saraswathi S | Indian |
| Saraswathi S | Indian |
| Raman S | Indian |
| S Anupama Kumar | Indian |
| Bhupati Shukla | Indian |
| Venkatraman Ramachandran | Indian |
| Raghavendra | Indian |
| Kishor Kumar Kuryala | Indian |
| Venkatesh Iyer | NRI |
| Shreegeetha C B | Indian |
| R.A.Venkitachalam | Indian |
| Anitha Mallur Parthasarathy | Indian |
| Visalakshi Ganapathy | Indian |
| Gopal Mahapatra | Indian |
| Rohini B | Tamil Nadu |
| Susheela Mahadevan | Maharashtra |
| Ashwini Somasundaram | NRI |
| Ra.Kumar Sankar | Andhra Pradesh |
| Dvs sastry | Andhra Pradesh |
| Meera Seth | Karnataka |
| Baskaran Ramamurthy | Karnataka |
| Gayathri Srinivasan | Tamil Nadu |
| Srikanth K Machavolu | United States |
| Vyjayanthimala Nagarajan | Tamil Nadu |
| Sarang Dabadghao | Maharashtra |
| J Venkata Subramaniyan | Andhra Pradesh |
| Usha Ram | Karnataka |
| R Jayesh | NRI |
| L Mayuranath | NRI |
| Sripriya Sridhar | Karnataka |
| S Sudha | Tamil Nadu |
| Mallika Ganesan | NRI |
| Ravi Kumar T P | TN |
| Ganesh Ananthaswamy | NRI |
| Padmanabhan | NRI |
| Rajalakshmi sripathy | Tamilnadu |
| Shikhar Gaur | Delhi |
| Lalitha Rajaraman | Karnataka |
| Vijayanarasimha K | Karnataka |
| Surabhi Krishnamurthy | Karnataka |
| V Umamaheshwari | Tamilnadu |
| Uma N R | Karnataka |
| Visali Rajaraman | Singapore |
| Vijayalakshmi Kirthivasan | Tamil Nadu |
| Rajalaxmi S | Indian |
| Madhusoodan Radhanivas | Karnataka |
| S Ramesh | Karnataka |
| Shambhavi Mulay | Maharashtra |
| K S Kannan | Tamilnadu |
| Rammohan Nagasubramanya | Karnataka |
| Sharada Chandrasekar | Tamilnadu |
| Sudha Srikant | Karnataka |
| Jay A Raman | Karnataka |
| Mrunalini Palan ( Haresh Bhupendra ) | NRI |
| Meena Sunndaesan | NRI |
| G P Nagaraj | Karnataka |
| Sujith Radha kris | |
| Radhe Syam Tangi | |
| Veena Ravi Narayan | |
| Padma Ramani | Karnataka |
| Srinivasa Murthy | Karnataka |
| Bharadwaj | Andhra Pradesh |
| Vangipuram L.N Kumar | Telangana |
| Sukanya Venkat | Karnataka |
| Sandhya S | Karnataka |
| Manish Londhe | Madhya Pradesh |
| Phani Madgula | Karnataka |
| Narayanan R | Tamilnadu |
| Padma Sriram | Karnataka |
| Arvind Subramanian | Maharashtra |
| Venkatesh Suryanarayana | Karnataka |
| Vidya Hariharan | US |
| Vaidyanathan Raghunathan | Maharashtra |
| Shankar Athreya | Tamil Nadu |
| Muralidharan S | Bengaluru |
| Siva Rama | Singapore |
| T S Panchapagesan | Karnataka |
| Mohana Vij | |
| Rohini Rao | Karnataka |
| Shashikala kamath | Jharkhand |
| Damodar | Oman |
| Kalyanraman Ravichandran | United States |
| T Muraleemohan | KERALA |
| Hemanshu Pota | Gujarat |
| N Bhanumathi Nair | Karnataka |
| Krishna Narayan | TAMIL NADU |
| Vangipuram Ln Kumar | Telangana |
| Sudheendra Rao Subba Rao | Karnataka |
| Retheesh VM | Karnataka |
| Vijayalakshmi R | Karnataka |
| Lakshmi Mani | |
| Kannan Narayanan | TAMIL NADU |
| Venu | Australia |
| Annalakshmy R | Kerala |
| Srilatha Sriram | Karnataka |
| Prasad Manjare | Maharashtra |
| Prabhakar N | Tamilnadu |
| Uma Meenaxi Arunachalam | Maharashtra |
| BABU SK | Tamilnadu |
| Varadan Congeevaram | USA |
| Sridhar Subramaniam & Sudha Sridhar | SINGAPORE |
| Adi Durga Prasad Chegu | Karnataka |
| Jayant Mehrotra | MAHARASHTRA |
| Usha Sreedhar | MAHARASHTRA |
| Rama Shankar | USA |
| Ganesh Subramaniam | KARNATAKA |
| N N Amogha Rao | Karnataka |
| Kamakshi Venkataraman | Tamil Nadu |
| Vasundhara | Karnataka |
| V Gangathimmaiah | Bangalore |
| Shantha Ramachandran | Secunderabad |
| Kalyanaraman Ramachandran | Tamilnadu |
| Lynn/Mobua | |
| Anand Paralkar | Maharashtra |
| Phani B Madgula | Karnataka |
| SHHS NARAYANAN | TAMIL NADU |
| Durgalakshmi V (for Aravindh P R) | Tamil Nadu |
| Madhuprakash | Karnataka |
| Rajeshwari Narla Rao | Maharashtra |
| VNMeenakshi | Delhi |
| Gururaj R | Telangana |
| Brinda sekar | Karnataka |
| Sanyasirao Varanasi | Telangana |
| Pallipakkam Sivarama Ramanathan | SINGAPORE |
| Swaminathan Ramachandran | Karnataka |
| V Rama Kalyani | |
| S Kala | |
| Ramkumar Varadarajan | Tamilnadu |
| Jana Ravi Kiran | Kerala |
| Jyothsna | Karnataka |
| Indira A. Sabnis | Karnataka |
| Anand Srinivasan | Karnataka |
| M RAVI | Karnataka |
| Jayarama.P | Karnataka |
| Srinivasan Venkatesan | Tamilnadu |
| Subbalakshmi | Kerala |
| Ujjwala Singhania | Haryana |
| Sunitha Mysore Gopal | Tamilnadu |
| Rajeshwari Hemmadi | Maharashtra |
| Rajalakshmi Ramamurthi | |
| Mythili Iyer | Australia |
| K Savithri | |
| Padmashree P C | Karnataka |
| Sweety Shinde | Maharastra |
| Santosh Udipi | Karnataka |
| Girish Bhat | Karnataka |
| Lakshmi K V | |
| Vishal Anand Aisur Gopalakrishnani | Karnataka |
| Sunil Archak | Delhi |
| Lakshmi | Karnataka |
| Vijayalakshmi V | Tamil Nadu |
| Shrikant Arya | Karnataka |
| G Rathnasri | Delhi |
| Eesha Deshpande | Maharastra |
| Ramani K A | TAMIL NADU |
| Krishnamurthy | Karnataka |
| Uma Krishnan | Tamil Nadu |
| Rajmohan Kombiyil | Kerala |
| Malini Senthilnathan | Tamil Nadu |
| Bharata Bhasker Rao | Karnataka |
| Sivaranjani Krishnamani | Karnataka |
| S.Madhavan | Maharashtra |
| Umaparvathy | Tamilnadu |
| Sharda Gopal | Tamil Nadu |
| Natarajan Kalyan | MAHARASHTRA |
| Subha Krishnan | MAHARASHTRA |
| Venkiteswaran M R | Karnataka |
| Mala Chandrasekhar | Karnataka |
| Raghava Prasad Madhavapeddi | Karnataka |
| Ashok Halanadu Suryanarayana | Karnataka |
| Rajasree Sangam | Karnataka |
| Harihara Vinayakaram N | Karnataka |
| Kalyani Venkataraman | Tamil Nadu |
| Anuradha | Karnataka |
| Janardhan Iyer | MAHARASHTRA |
| Meera Raman | Tamilnadu |
| Sanjeev Raina | Maharashtra |
| Narasimhan S | Karnataka |
| S Seetharaman | Tamil Nadu |
| Rajagopalan Sampath | Karnataka |
| Anuradha (lakshman) | Karnataka |
| Pramod Maheshwari | MAHARASHTRA |
| Usha Chandrasekaran | Tamil Nadu |
| Kasturi Ram Ramaswamy | Karnataka |
| Parthasarathy Sampathkumar | Karnataka |
| Natarajan | |
| Vamsidhar Ambatipudi | Telangana |
| Ayyala Somayajul | |
| Swetha K R | Karnataka |
| Kamakshi Venkataraman | Tamil Nadu |
| Phanisree Kavirayani | Karnataka |
| Jayashree Ramaswamy | MAHARASHTRA |
| Girish Adiga | United States |
| SOFTPRO BUSINESS SOLUTIONS | KARNATAKA |
| Bhaskar & Vivek Sripada | TELANGANA |
| J Balasubramanian | TAMILNADU |
| S K Lakshmi | Karnataka |
| SK BABU | TAMIL NADU |
| Sarada Murthy | Tamil Nadu |
| Smitha HS | Karnataka |
| Snehalatha | Karnataka |
| Mani Kumari.R | Karnataka |
| S E Durai Subramaniam | Karnataka |
| S Murali and friends | Karnataka |
| Balaji Narasimhan | Tamil Nadu |
| Rajkiran Ramakrishna Kaipa | Tamil Nadu |
| Lakshmikeerthivasan | Tamil Nadu |
| K. Indumathi | Tamil Nadu |
| Siddhanth Rajashekar | Karnataka |
| Sivasubramaniam Meenakshisundaram | Tamil Nadu |
| Latha Rama | |
| Janani A Koteeswaram | |
| Anandhy venkatapathym | Tamil Nadu |
| S Parvathi Natraj | Bangalore |
| V Bhanumathy | Indian |
| LAKSHMINARAYANA SR | Maharashtra |
| K.Purushottam | KARNATAKA |
| Sudarshini Lakshman | Karnataka |
| Suresh Ramarao | Maharashtra |
| P Sriram | Haryana |
| Anitha Parthasarathy | Karnataka |
| Sankaranarayanan Gudalur | Karnataka |
| JAYASRI SUDARSANAM | Karnataka |
| Ravi | Karnataka |
| Vinaya Kongovi | Tamil Nadu |
| Vedavalli | Karnataka |
| Srinivas Bhagavatula | Karnataka |
| Bhavani K.V. R | Telangana |
| K Krishnamurthy | Telangana |
| Balaji Athur Ramachandran | United States |
| Indira M | |
| Baggialakshmi R | |
| U Subrahmanyeswara Rao | Telangana |
| Chitra Sankar | Tamil Nadu |
| N Gurumurthy | Tamil Nadu |
| Lakshminarayanan Chidambaran | Tamil Nadu |
| Gayathri Ramachandran | Tamil Nadu |
| A. S. Swaminathan | Uttar Pradesh |
| Pravina Chauhan | Delhi |
| Kalyani Muralidharan | Karnataka |
| Sowmya Balakrishnan | Tamil Nadu |
| Swaminathan Shankar | Delhi |
| Nishant | Karnataka |
| Priyadharasini | Tamil Nadu |
| Sreekanthan.O.R | Kerala |
| Gurushankar | |
| Vidya S | |
| Akila Suresh | PA, USA |
| N S Parameswaran | Tamil Nadu |
| Sujatha Chandrasekaran | Karnataka |
| Uma Jayaraman | Karnataka |
| Hari Ravikumar | Karnataka |
| Mugdha Mayur Koulavkar | Karnataka |
| Rama Shankar | Karnataka |
| Sujata Bhat | Delhi |
| Jeya Sankar | |
| Dr.P Muthu | Kerala |
| Ganesh Subramanian | Karnataka |
| Sandyya Umamahesweran | Tamil Nadu |
| Rajamani Visweswaran Ashok | Tamil Nadu |
| Kamakshi S | Tamil Nadu |
| LAKSHMI RADHAKRISHNAN | Tamil Nadu |
| Lalitha Ganapathy | Karnataka |
| Pratima J Arora | Maharashtra |
| VANI RAVIKUMAR | Karnataka |
| Sreenivasan A | Kerala |
| V RAGHUNATHAN | Maharashtra |
| Nandini AP | Tamil Nadu |
| ELANGOVAN . M | TAMIL NADU |
| Annapurna Ayyalasomayajula | |
| Sripushpaa Ramachandran | Tamil Nadu |
| Raghava | |
| Subrahmanyam Jiddu | Karnataka |
| Lakshmikanthan | Tamil Nadu |
| Kanchi Gopinath | Karnataka |
| Dr.Chetan Manohar | Karnataka |
| Ragothaman R | Tamil Nadu |
| Dr. Jayadevi Prakash | Tamil Nadu |
| N Laxmi Kalyani | Telangana |
| Lakshmi Sriadi Pochimcharla | Telangana |
| Vijaya M | |
| Ganesan S | Telangana |
| Julius Wilhelm Heyne | Kerala |
| Murali Iyer | |
| Muralidharan | Tamilnadu |
| Sivaramasubramaniam | Singapore |
| Kiran | |
| INDIRA PRATIVADI | Karnataka |
| JAYANT NARAYAN KAYAL | MAHARASHTRA |
| Anita Srivastava | Uttar Pradesh |
| Anjugam .R | Tamilnadu |
| Ganapathy Lakshminarayanan | Karnataka |
| VIJAYAKUMAR B R | KARNATAKA |
| Ramsharan Jha | Telangana |
| Subhashini Sundar | Karnataka |
| NSL Narasimhan | Maharashtra |
| RAVILOCHANAN PARTHASARATHY | TAMILNADU |
| Kamakshi Srinivasan | Karnataka |
| D.Boobathi Babu | Telangana |
| Sudha Krishnamurthy | Tamil Nadu |
| B Krishnamurthy | Tamil Nadu |
| S. VEDAVALLI | Karnataka |
| Sriranjani | Tamil Nadu |
| Vishwanathan Iyer | Maharashtra |
| Srinivas Subramanian | Maharashtra |
| Haricharan S M | |
| mahalakshmi Rajan | maharashtra |
| Vasavi A N | |
| Ganesh Rajagopalan | Tamilnadu |
| K. Sharadha | Tamilnadu |
| Saraswati Balachandran | Tamilnadu |
| Janhavi Sathish | Tamilnadu |
| Saraswathi K.G | Tamilnadu |
| Mythili Ramaswamy | Indian |
| Anita Nair | Gujarat |
| KrishnaIyer S Mony | USA |
| RAVI KUMAR | Karnataka |
| T.R.C. Sharma | Tamil Nadu |
| Balaji seshadri | Karnataka |
| Geethavani | Tamilnadu |
| Ramesh A P | Karnataka |
| Kalpana Sankar | Tamilnadu |
| Syam Prasad Karanam | USA |
| Anandhy Venkatapathy | Singapore |
| Vijaya Hethirajan | Chennai |
| Lackcharak Jankee | Mauritius |
| Ganapathi R | NRI |
| Padmanabhan | NRI |
| Ramachandran | NRI |
| Kalpana Sankar | Tamilnadu |
| Chennuru Penchel | NRI |
| Rajesh Anandaramu | Bangalore |
| Srividya Narayan | NRI |
| Vasantha M A | NRI |
| Jayshree R S | Karnataka |
| NIkhil Vij | Karnataka |
| K S Srinivasan | Tamil Nadu |
| GIRIJA VASUDEVAN CHARI | Tamil Nadu |
| Lalitha B | Tamilnadu |
| Appa Iyer Sivakumar | Singapore |
| Subha Vaidyanathan | Tamilnadu |
| Anuradha Dwarakanath | Karnataka |
| Smitha H S | Karnataka |
| Poornima Adishesh | Karnataka |
| Mridula P | TAMILNADU |
| VIDYA IYER | Maharastra |
| Shuba Ganesh | Tamilnadu |
| PRASAD SRIPADA | Michigan, USA |
| KVM. KRiSHNA MURTHY | Andhra Pradesh |
| S. K. Balasubramanian | Tamil Nadu |
| Pitchumoney Kumara pillai | New Jersey , USA |
| Vaidyanathan Ramachandran | Chennai |
| Dr. Parvathanathan | India |
| SITA LAXMINARAYANA | TAMILNADU |
| Indira Gokulchandra | Bangalore |
| sanjay | Maharashtra |
| N Ganesan | Australia |
| krishnan balasubramanian | TAMILNADU |
| GANESH | KARNATAKA |
| CHITRA GURUMOORTHY | GUJARAT |
| Viswanatha Gupta | Karnataka |
| Saraswathy Athmanathan | Chennai |
| Padmanabha | Bangalore |
| Sankar K | Chennai |
| Harish Phutane | Bangalore |
| Nethra Ram | Tamil Nadu |
| Jyothika Bhat | Karnataka |
| Chandra M H | Karnataka |
| Harohalli Ramakrishna | Karnataka |
| NATARAJAN KRISHNAMOORTHY | Karnataka |
| Vijaya Narasimha K | Karnataka |
| Deepa Rajasankar | Tamil Nadu |
| Aruna S | Tamil Nadu |
| C N SETHURAMAN | Tamil Nadu |
| Krishna Mahesh Karanam | Karnataka |
| S N Rama Gopal | Karnataka |
| S Radhakrishnan | Karnataka |
| Veena G S | Bangalore |
| Shubhada Lakshminarayanan | Trichy |
| C K Venkateswaran | Gurgaon |
| Arthi Hari Ram | Hyderabad |
| Lakshmi R | Bangalore |
| Ruchi J S | India |
| Subrahmanya yeth | NRI |
| A Rajaraman | Mumbai |
| Manivachagan | India |
| Nagaraja | India |
| N P Visalakshy | Chennai |
| R Baggialakshmi | Chennai |
| Savitha N Kumar | Bangalore |
| Ramkumar Venkatesan | Bangalore |
| Sridhar Nagabhushana | Bengaluru |
| Vijayalakshmi Kirthivasan | Chennai |
| Adityavarman Mehta | Mumbai |
| Jyothi Kashi | Bengaluru |
| Aruna gorti | Balaghat |
| VENKATESWARAN GOPALA | CHENNAI |
| Madhavi Guduru | Visakhapatnam |
| Srinivasan S | Bengaluru |
| Vandrangi Suresh | Vellore |
| N S MURALI | CHENNAI |
| Radha Krishna Pratapa | Vijayawada |
| Ashwin Ravi Anandan | Pune |
| Raadhikaa Srinivasan | Chennai |
| Roshni Unni | Bangalore |
| Venkatesh Balachandran | Chennai |
| Raji Poguluru | Bangalore |
| Ramachandran S | Chennai |
| Jyothi P Mantri | Belgaum |
| Mithun Lakshmana Pai | Bangalore |
| M.Uma | Chennai |
| Ramakrishnan Subramanian | Bangalore |
| PRAVIN K KULKARNI | THANE |
| Shajna Dinesh | Mumbai |
| N Mukund Sharma | Bangalore |
| Manju Sharma | Canada |
| Amitabh upadhyay | Gorakhpur |
| Rajesh Ramanathan | India |
| Kolar Kodandapani | Bangalore |
| Karthik G N | Bangalore |
| R Venkataraman | Chennai |
| K Vijayraghavan | Chennai |
| Apoorva Desikachar | Bangalore |
| R Kuppan | Chennai |
| Umesh wamorkar | Chennai |
| S Ganapathy Subramanian | Secunderabad |
| Chitra Ravichandran | Bangalore |
| Sumathi Kuppusamy | Bangalore |
| JyothiLakshmi Belagur | Bangalore |
| Gururaj G | Moodbidri |
| N Sudarsana Mehta | Chennai |
| S Sampath Kumar | Bangalore |
| P T Janardhanan | Mumbai |
| Girish Adiga Sathyanarayana | San Jose |
| Swarnambal Mani | Minneapolis |
| Srinivasamurthy Chillara | NRI |
| Hemalatha Rao | Australia |
| B V Shivashankar | Bangalore |
| Pola Subbarao | Guntur |
| JAYASREE V | Coimbatore |
| Kavitha V Rao | Bangalore |
| Vinay Siddaiah | Bangalore |
| sreelatha mittapalli | Hyderabad |
| Vijayasarathy Bergai Parthasarathy | Bangalore |
| Anitaram | Bangalore |
| R Gurushankar | Chennai |
| Dr.Arun Sangal | Noida |
| Dr. K S Kannan | Chennai |
| Uma Ramanathan | Chennai |
| Harish P L | Bangalore |
| Vindhya Sushma Kiran Vandavasi | Hyderabad |
| Rajeswari Ramkumar Mandaveli | Chennai |
| Bhuvana Venkataramanan | Bangalore |
| Krishnan P S | Bangalore |
| SOWMYA SRINIVASAN | Chennai |
| K Seethalakshmi | Chennai |
| Vijay Chaitanya Nishtala | Visakhapatnam |
| Usha Ram | Bangalore |
| SUBBALAKSHMI SUNDARESAN | Chennai |
| Anuradha Gupta | Bangalore |
| Janani Sriram | Chennai |
| Brindha Hariharan | USA |
| Govindarajulu | Tamil Nadu |
| Poornima A | Hyderabad |
| Yashovardhan Mopur | Bengaluru |
| Girija K G | Navi mumbai |
| Madhumitha | Bengaluru |
| Sashikala | Bengaluru |
| Ramachandran S | Chennai |
| Lakshmikanthan MV | Chennai |
| Dr Manjula Shivashankar | Bengaluru |
| Venkatesh K Suryanarayana | Bengaluru |
| Koteeswaran V | Chiselhurst, England |
| Anand Ramchandra Khare | Pune |
| Jai Prakash Singh | India |
| Prabha Balaji | India |
| Jitendra Sihwag | Faridabad |
| Govindarajulu | Chennai |
| Shyamala Srinivasan | Bengaluru |
| Vindhya Sushma Kiran Vandavasi | Hyderabad |
| Amita Bhargava | Haryana |
| Jayasree V | Tamil Nadu |
| Umamaheswari V | Chennai |
| Satish B Krishna | Bengaluru |
| SHEELA KRISHNAN | Chennai |
| Shanthi Nair | Bengaluru |
| Duggirala Sathya Prakash | Hyderabad |
| Venkat Iyer | Hosur |
| Niranjan Tantri | Kalaburagi |
| Savithri Gangadhar | Hyderabad |
| Lakshmi Suresh | Bengaluru |
| Srinivasan I | India |
| prakash bhave | Thane |
| BINDUMADHAV WADAVI | Bengaluru |
| Umadevi Ranganna | Bethlehem |
| R Narayanan | Bengaluru |
| Visishta advaita | Chennai |
| Hemalatha S | Bengaluru |
| Manjula K S | Bengaluru |
| Krishnan L N | India |
| Shamala M | India |
| Sushama R Kanetkar | Bengaluru |
| Sivanandan Nair | NRI |
| PS Ramachandran | Coimbatore |
| Savitha Saranathan | Chennai |
| Vishlakshy Ramani | Chennai |
| Dwivedula Shyam Sundar | Visakhapatnam |
| Ayswarya Sankaranarayanan | Palampur |
| Sreevidya R | Pathanamthitta |
| Swapna Subramanian | Bengaluru |
| Vijaya Kurada | London |
| Prabha S | Bengaluru |
Donors who Have donated 25000 to 49000
| Name | Place |
| --- | --- |
| Muniswamy Marathi | India |
| Janardhan Mahalingam | Chennai |
| Michika Inuzuka | Japan |
| Usha Sampath | Chennai |
| Venkatraman krishnan | Gurgoan |
| Prasad A R N | Bangalore |
| Subramanya K N | Bangalore |
| Shankar Subramaniam | Cochin |
| Rajaraman Venkataramani | United Kingdom |
| Lakshmi Narahari Trust | Mysore |
| Shivaram | Bangalore |
| Meenaxi | Bangalore |
| Nirmala Bhoopalam | Illinois , USA |
| Vijayalakshmi Rajgopalan | India |
| H Venkateswaran | India |
| Raghavendra Prasad | Hyderabad |
| Chandra Mauli Raman | Chennai |
| Arjun Ranga Charitable foundation | Mysore |
| Sowmya A N | Bangalore |
| S Balasubramaniam | India |
| Geeta Narayanan | Mumbai |
| Jyothsana Kalavar | Bangalore |
| Prema Patham | Bangalore |
| Prakash Krishnamoorthy | Chennai |
| Prem Sadasaivanada | New York , USA |
| R Balasubramanian | Chennai |
| Rajesh A | Bangalore |
| Rajaguru M Aacharya | New Jersey , USA |
| Usha Venkateswaran | Atlanta , USA |
| Venkatachala Seenivasan | NRI |
| Venkataraman R Gangu | Texas, USA |
| Roopa Prabhu | Bangalore |
| Panchanadam Swaminathan | Pennsylvania , USA |
| Shubhanka Lahiri | Bangalore |
| Ajith Kumar Sastry | Karnataka |
| Usha Subbarayalu | Los Angeles, USA |
| Hanudatta Atreya | Bangalore |
| Kathamuri Sarma | New York , USA |
| Divya | Bahrain |
| Pradeep Hiremande | Bangalore |
| Rakesh Jalemane | Indian |
| Kavi Mahesh | Hubli |
| Sridevi Bulusu | Bangalore |
| N Karthik | Bangalore |
| Chandra Raghunandanan | United States |
| Sundara Raman Subramaniam | Karnataka |
| Sreekanthan O R | Kerala |
| Avinash Mahalingam | Tamilnadu |
| V S Saravanan | Tamilnadu |
| Geeta Athreya | Delhi |
| Radhika | Karnataka |
| Avinash Mahalingam | Tamil Nadu |
| Sushmitha K | Bangalore |
| Subramanyam Shivaswamy | Karnataka |
| Karthik | Bangalore |
| Arun Kumar | United States |
| Parul Desai | Karnataka |
| Gopalakrishnan S | Tamilnadu |
| Dwarakadasa Eswarahalli | Karnataka |
| Malolan Pathanki | Pondicherry |
| Chanchal Wadhwa | United States |
| Srinivasan | Bangalore |
| Radhabai V | Bangalore |
| Bhavani Srinivasan | Tamil Nadu |
| Radha Rammohan | Bangalore |
| Jayanthi Devarkal | Maharashtra |
| S Mahadev Prasad | Karnataka |
| Sankaranarayanan Gudalur | Karnataka |
| Hamsa Ravi Kiran | Karnataka |
| Shilpa Shah | Karnataka |
| Swaminathan Venkat | Maharashtra |
| N V Acharya | Karnataka |
| Ranjani Radhakrishnan | Karnataka |
| Viswakumar Ramasubramanian | Tamil Nadu |
| Shekhar Murthy | Tamil Nadu |
| Hema Jagannath | Bangalore |
| MOHAN RAMCHANDRA DATAR | Maharashtra |
| SRINIVASAN IYER | Karnataka |
| Sankarakailasam Iyer | Pennsylvania , USA |
| Ramakrishnan R | Karnataka |
| Anantha krishna | Massachusetts, USA |
| Ramkumar Venkatesan | Karnataka |
| Jagannath Laxman Desai | Karnataka |
| Radha Panicker | Maharastra |
| BALENDRA KUMAR | Karnataka |
| V Sivaraman | Maharashtra |
| Satish Joshi | Maharashtra |
| Ravikala K | Karnataka |
| R. GURUMOORTHY | Gujarat |
| Sivakumar Balakrishnan | Karnataka |
| Durghalakshmi R | Tamilnadu |
| kirthivasan iyer venkatraman | Tamilnadu |
| Mythili Narayan | Tamil Nadu |
| Vijay Seshadri | Karnataka |
| Sujatha Srinivasan | Tamilnadu |
| Murali R | Tamilnadu |
| Viswajeeth | Chennai |
| Ajit Kumar Sastry | Bangalore |
| V PRATHIBA | Chennai |
| Suman R Mirmira | Bangalore |
| Shyam Sundar Bhushankumar | Mumbai |
| Sushama R Kanetkar | Bangalore |
| Vasan Hassan NarasimhaIyengar | Bangalore |
| Lalitha Thyagarajan | Chennai |
| Sreevidya R | Thiruvananthapuram |
| Varadarajan Baskar | United Kingdom |
| Krishnan Parameswaram | California , USA |
| Mala Mehta | Mumbai |
| Radha Ramaswamy | Bangalore |
| Viswanath Gopalakrishnan | Bangalore |
| Kalpana Manikantan | Bangalore |
| Radhika Vallabha das | Mumbai |
| Pranav M V | Hyderabad |
| Suman R Mirmira | Bangalore |
| Prema Sripathy Rao | Bangalore |
| Phani B Madgula | Karnataka |
| Mani Kumari.R | Karnataka |
| Meenakshi V N | Bangalore |
| Surabhi Krishnamurthy | Karnataka |
| Ramkumar varadarajan | Chennai |
| Ramanathan Swaminathan | OMAN |
| kirthivasan iyer venkatraman | Tamilnadu |
| Venkatesh Balachandran | Chennai |
| Sarang Dattatraya Dabadghao | Thane |
| Shantanu Bhagwat | Maharashtra |
| Jayashree S Mani | Chennai |
| Natarajan Satish | Maryland,USA |
| Sivakumar | Bangalore |
| Mekala Mahesh | Chennai |
| Yuvaraj Athur Raghuvir | California , USA |
| Ravi Hariharan | Bangalore |
| Kaushy Lal | Bangalore |
| Nagendra Pavana R N | Mumbai |
| Kamala V | Mumbai |
| Balakumar R | Bangalore |
| Neil Barman | USA |
| Sathe Ramesha Bhat | Bangalore |
Donors who Have donated 50000 to 100000
| Name | Place |
| --- | --- |
| Jagadeesha Achrya | NRI |
| Venkat Pula | NRI |
| Chandra Raghu ( Arsha Vidya Bharathi ) | USA |
| Kamakshy Nagesh | Bangalore |
| Mukambika Kunjithaya Seetharamarchaya | Bangalore |
| Seethalakshami R | Chennai |
| Muthukrishna Ramanujam | USA |
| Kumaraswamy Hebbale | NRI |
| Karthikeyan K | Bangalore |
| Apparao Devata | NRI |
| Nalini Mishra | India |
| Rajalakshmi Murthy | India |
| Rajani K S | Bangalore |
| Sudheendra Rao | Bangalore |
| Visalakshi Mahalimgam | India |
| R Viswanadham | Bangalore |
| R Padmavathi | Bangalore |
| Vaidyanathan Ramachandran | Bangalore |
| Brinda Ramakrishna | Maharastra |
| Ananda | Bangalore |
| Shyam Subramaniam | Bangalore |
| YESSTAR Technology Solutions | Tamil Nadu |
| Prasanna | Bangalore |
| Susheela Venkataraman | Bangalore |
| S S Sriram | Bangalore |
| Chakradhar N R | Bangalore |
| Vijayasree | Belagola , Karnataka |
| Ramsamy Subramani | Tamilnadu |
| Sathya Narayana | South Canara ,Karnataka |
| Hymavathi Abbavaram | Bangalore |
| Sachidananda | Bangalore |
| Padmanabhan Iyer | Maharastra |
| Deepa Rangarajan | Tamilnadu |
| Bhaskaran Srinivasan | Bangalore |
| Revathy Subramanian | Maharashtra |
| Jayarama P | Mangaluru , Karnataka |
| Naliny Srinivasan | Elkhorn |
| Surendra Raju M | Bangalore |
| Saurabh Gupta | Punjab |
| Mohan Datar | Maharashtra |
| Saraswathy N | Kerala |
| Rajeev Karri | Bangalore |
| Indira Raghavan | Chennai |
| Chandrasekhar Vellore | Tamil Nadu |
| DB Babu, Unwired Labs (India) Pvt Ltd | Telangana |
| Ramanujan Valmiki | Bangalore |
| S Mahadev Prasad | Bangalore |
| Vasan Hassan NarasimhaIyengar | Bangalore |
| Rajalakshmi M A | Bangalore |
| Krishnan Parameswaram | California ,USA |
| Sundara Raman Subramaniam | Bangalore |
| Radha Rammohan | Bangalore |
| Gopinath & Jyotsna Kalavar | Lilburn , Atlanta |
| Srinivasan | Bangalore |
| Ramesh Anantharamaiah | Bangalore |
| Shilpa Shah | Bangalore |
| Ganapathy Swami | United States |
Donors who Have donated 1 lakh and above
| Name | Place |
| --- | --- |
| Anand Bhaktan | Bangalore |
| Anand – Shankar Treks | Bangalore |
| Anil Mutalik | Bangalore |
| Aruna Vayuvegula | Bangalore |
| Balaji Srinivasan | Bangalore |
| Bandaru Venkata Supriya | Tirupati |
| Bhoopalam Chandrasekarayya | USA |
| Dimple Jatakia | SINGAPORE |
| Harish M V | Bangalore |
| Harshavardhan Khemani | Hyderabad |
| Jagdish Chandra Sharma | Karnataka |
| Jayakumar L | Bangalore |
| K Kamakshi | Karnataka |
| K V Krishnan | Tamilnadu |
| Kailash Swaminathan | Bangalore |
| Kalliana R Krishnan | California , USA |
| Krishnamoorthy Vaidyanath | Karnataka |
| Krishnamurthy Balakrishnan | Coimbatore |
| Krishnamurthy C S | Chennai |
| Krishnamurthy P | Bangalore |
| Kuppuswamy B S | Bangalore |
| Mahadevan B | Bangalore |
| Malathi Moorthalatha | Bangalore |
| Mamatha Lakkavalli | Bangalore |
| Mani Iyer Surendran | Tiruchirappalli |
| Megumi Fujikawa | Japan |
| Nandakumar Menon | Kerala |
| Naresh D Mishra | USA |
| Neelesh Ramesh Bodas | California , USA |
| Parul N Desai | Bangalore |
| Prakash Ramanathan | NRI |
| Prodapt Solution Pvt Ltd | Chennai |
| Rahul Tirukallam | Telangana |
| Raj Helen Desai | USA |
| Rajoo Balaji | Tamilnadu |
| Rama Sivaraman | Chennai |
| Ramanujan Valmiki | Bengaluru |
| Ramashankar | Chicago , USA |
| Ramesh Rama Iyer | NRI |
| Ranga Reddy | NRI |
| Ravinder Bassan | UK |
| Revathy Venkatratam | Indian |
| Sandeep Deshmukh | Maharashtra |
| Sandhya N S | Bangalore |
| Shankar Belavadi | Indian |
| SHANKAR G R | Karnataka |
| Shiva Jaganathan | Bangalore |
| Shobha Vasuki | Karnataka |
| Shreedhar R Murthy | Lancaster , USA |
| Siva Subramaniam Moka | Singapore |
| SIVASUBRAMANIAN G | Tamilnadu |
| Sowmya H | Bangalore |
| Subramanyam Shivaswamy | Karnataka |
| Sumanth Suresh | NewYork, USA |
| Sumita Vidyashankar | Chennai |
| Sundar Chandramouli | Karnataka |
| T V Bhanuprakash | Bangalore |
| Tadwai Adarsh | Telangana |
| Wg. CDR. Adishehalu | Chennai |
| Ganesan Vijayaraghavan | Chennai |
| Hariharan T | Chennai |
| Ganapathy T | Maharashtra |
| Anshu Gupta | Netherlands |
| RAVIKANTH KONTETI | Telangana |
| Gayathri Tadepalli | Mumbai |
| Vadlamani SSM Manikanta | Andhra Pradesh |
| Sri Visthara Infrastrutures Private Limited | Chennai |
| Syon Niyogi | Sri Lanka |
| Anappindi Venkata Sateesh Kumar | Secunderabad |
| RAMANUJAN K VALMIKI | Bengaluru |